This time I made a pen roll to hold some of my scrapbooking pens. I love this fabric I used, it's poplin, I can't remember the name though. The backing is plain craft material for quilting. I'm so happy my sewing is improving already *yay*
So here is the close up of the pockets, and material:
With the pens in it: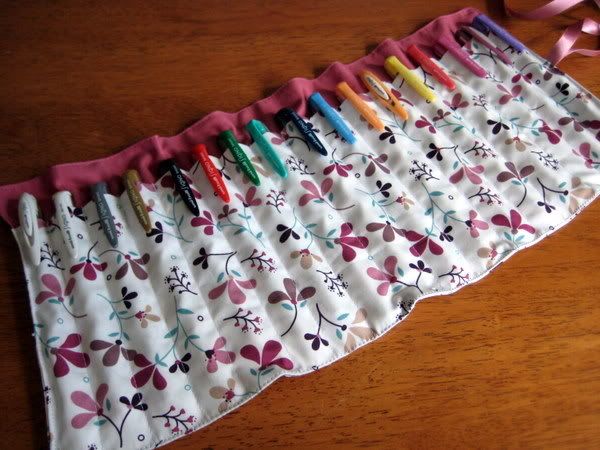 And all rolled up and tied up with the ribbon:
The pattern is the same as for the crayon roll, I just altered slightly to accommodate the taller pens. These things are great for practice, but I think I need to look for something else to make, bored to make this again already.
On Friday we went to the Queensland Museum at SouthBank (Mum, my sister her other half and kids, and a friend and her 2 kids). It was so much fun, and free to. Under it is the Science Centre, hopefully one day I will go look at it, though you have to pay for it. Anyway, the Museum is so interesting, to see all those old things, especially the old days cars, and things fire fighters used to use (I must say I'm glad I wasn't one back in the day, it's all man power). I also saw the most awesome sewing machine, it's from 1867! Very beautiful antique.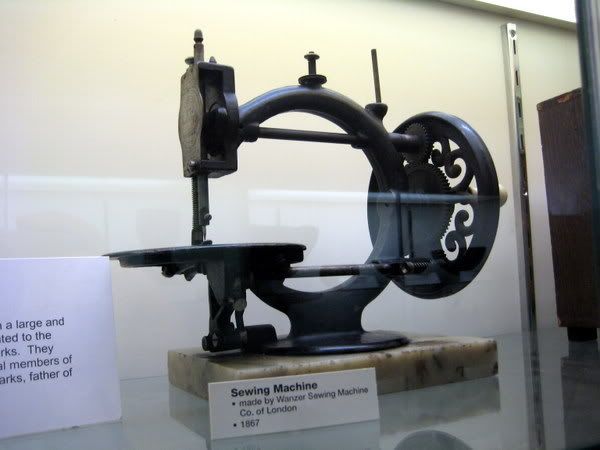 I really envy anyone that has the talent to use this type of machine!
So after the Museum we wondered over to the lagoon area of SouthBank, and had a picnic lunch followed by ice-cream at Cold Rock. Then the kids and my sister etc went for a swim. Mum and I laid around for a while before heading home. It was a fun day, can't wait to do it again.
Anyways I need to shove off, I'm almost finished a LO and I need to get to bed. It's my birthday tomorrow and I have to be up early for gym (oh joy, but it's a public holiday and they're only open 6am - 11am! I so wish they'd open in the afternoon instead).
Night all, will try to share my LO tomorrow.