The dentist that is yay. Bad news is I have to go back next month. He popped a temporary filling in so no more pain, but next month the tooth will be coming out :( Turns out that whilst it is savable with a root canal, my wisdom tooth is pushing up under it, so would have to come out down the track anyway. Slightly relieved about the cost saving for getting it pulled as compaired to the root canal. At the same time this tooth is being pulled I am also having a root canal started on my front tooth, that one thankfully is worth saving, but the cost, well lets just say I won't be scrapbook shopping for a while.
So onto other news, on the great stakes I finished my 10th unit for my TAFE course yesterday yay. I have 3 units left to complete, all of which I have started, so hoping it will all be finished soon.
Today was slightly busy, made 2 cards and altered a coaster, had to pick up Terese and Kane from school, then bring them here, cause I wanted to print some photos and my laptop wasn't co-oporating. Then I went to go get the photos, pumped up our car tire (we got a flat yesterday so put the spare on it was low on air), then dropped the kids home. Then it was off to gym for 2 hours eek. It is very busy around the gym, DFO (direct factory outlet) just opened, and during the day they even had police there directing the traffic. I'm glad I went at 5pm to gym when it's just closed, but still a lot of traffic then.
Oh have myself a gym achievement to, I've managed since last week to stay on the stepper machine for 30 mins straight at the highest setting. I'm doing the machine now at least 4 times per week so that I don't loose that ability hehe. And 2 little bits to brag, 1 - was told the other day by a lady I had just met that she was amazed at how powerful I am in boxing, as I did a double class, (basically in 1 hour doing twice the amount of boxing everyone else did), and I stayed consistent with my moves, and the effort I put in (I didn't slack off), and 2 - found out the reception ladies were gossiping about me with my personal trainer, was all good gossip though, they were talking about my weight loss, and how good I'm looking.
On the actual weight loss, I've lost 21kgs :) so am very happy with that. Would like to get another 10kgs off, though my PT is hinting towards me going into maintenance mode. Unfortunately I feel I'm begining to plateau. My weight has stayed the same for the last 3 - 4 weeks just having slight up and down moves, even though I've had a lot more exercise for the last 2 weeks. But will see how I go when I weigh myself on Sunday.
So to some pics:
First up is the LO I didn't get to show the other day, this is Erika and Hafiz, my husbands youngest sisters children, this LO is for Groovie Java Scraps mini challenge. Was so hard, but the outcome was great.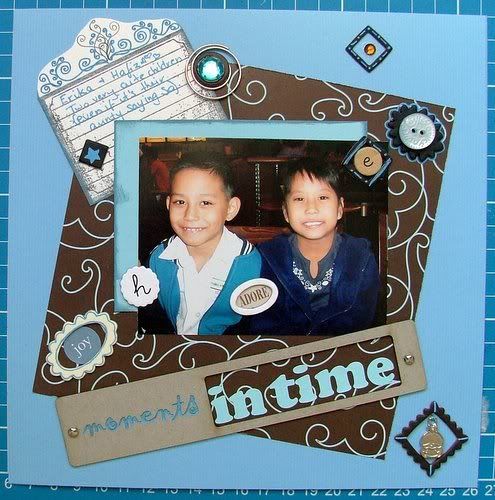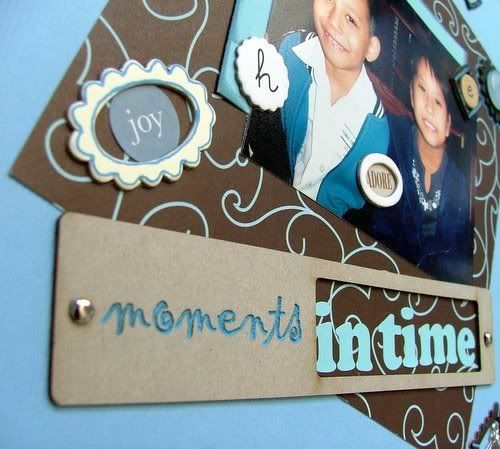 My niece Terese turns 11 on Sunday *sob* she's not a baby anymore, anyway I made this to go with her birthday present.
Oh and this is her birthday card.