Today was a great day *yay* though it didn't start out well.
Brothers GF tried to cause trouble AGAIN, I think she needs mental help, the things she says aren't normal at all.
But past that, today we went to pick up our new car *woot woot* I'm extra excited this time, we brought a Ford Falcon XR6, my *dream* car, we got it in black, the interior has blue highlights, gorgeous (even the instrument panel <- where the tacho etc is, glows blue, gorgeous). So I was excited from the moment I woke up, getting ready to get myself in the drivers seat.
So at 9am, before we had even left I recieved a phone call to say I won a competition at the gym for a beauty pack. It has got so many things, I'll post a picture tomorrow. It even came with nice bag for the bathroom things when traveling.
Then to top it off, I had a Tupperware party last week, normally I wouldn't have one, but my sister bugged me to have it. So I held it at her house and she got some of her friends to order things. But I was still a few dollars shy of the minimum party amount to get free tupperware. Today I spoke to her for a few minutes and one of her friends from TAFE ordered something and got me over the line *yay* so more freebies here I come.
Anyways on to other things:
because I am one of the slackest bloggers on this planet :p some updates for you all.
I'm back at TAFE, I'm studying Information Technology, after a run in with one of the tutors due to a communtication problem (and the need for me to get some credit transfers), all is going good now. *god willing* I'll get all the credit transfers I'm hoping for, then I can finish the course really fast! I'm not much in the studying mood anymore, so a little break would be nice.
My weight loss is coming along great lately :D very happy with myself, I decided to treat myself to. I brought a pack of 45 Personal Training sessions to keep myself motivated, and keep my muscle from disapearing. On the motivation thing, well I'm really fooling no one lol, I still go 5-6 days per week.
The weekend before last we had a great online crop on the forum, So I joined in for some of the challenges and these were what I made:
For the 3 hearts challenge: (LO had to have 3 hearts on it)
"Just because you are"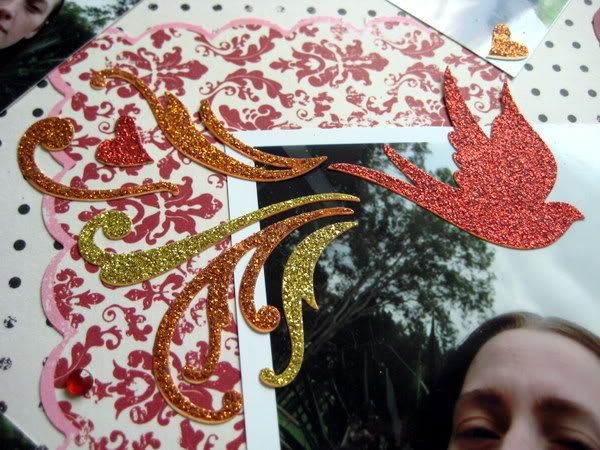 For Ed's "My Heart" challenge, had to do a LO of ourselves on a heart shape, and express ourselves on it.