hehe not a good sign for Zaly. I've been reading
Jacq's
blog, and I absolutely love her album covers, and especially her iPod nano covers. So I've decided to try it out myself and see if I can make these types of things myself. So today I went to Spotlight at Indooroopilly and picked up 2 nice *cheap* enough (lol that's the important part incase I suck at this lol) craft fabrics, and 2 fat flats. I got the cord too, not sure what I'ma do with that lol.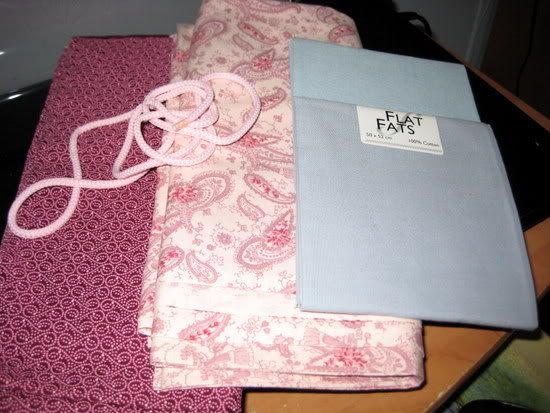 So I will see tomorrow or Thursday to give this my first shot.
I also picked up a little Christmas Hanger, from Kaisers Beyond the Page Range. It's so cute, I'm altering it for my mum for her Christmas decorations, I forgot though that I told mum I'd make 2, and I only grabbed 1, so hopefully on the way to the dentist tomorrow Zaly will let me stop and get another one. I also want to pick up some thin batting, which in my haste to get out of Spotlight as fast as possible I forgot to grab.
Today we went to K-mart, I had to pick up a layby for my mum and my sister, my sisters layby was her kids toys for christmas (lucky kids they're getting a bike each among heaps of other things). For mum it was the shadow boxes for the LO's I'm doing for christmas. I'm pretty pissed off though, I brought them home and went to insert the first two LO's and the boxes aren't 12 x 12 like it says it is. They're about 1cm off! I'm cranky, I could cut the LO's down (but I don't want to). So I'm thinking to return them, complain and then go find the boxes somewhere else. Only problem is that these were a lot cheaper (probably why they weren't the proper measurement), and I've only got till tuesday till I go away.
Oh we got some more flowers for the garden. Last week we started repotting things, this week we're adding flowers lol. I think maybe we're nuts, especially since we're not gardening people! But tomorrow I'll try to take photos when the flowers are planted, they're all pretty!
Well that's it from me, I need to get to bed *sigh* only 13 hours and 45 minutes till the dentist *eek*. Also tomorrow morning at 10.30 I've got to go take my sister to catch a train to the airport! She's going to mums house tomorrow (her, the hubby and the 2 children). My eldest sisters eldest son will be arriving at my parents on Thursday, then next Tuesday it is my turn to "arrive", with my 2nd brothers dughter in tow. Hopefully within 2 days of my arrival my 2nd brothers wife will arrive with their son, and closer to christmas day my 2 brothers will come with my eldest brothers fiancee. This is the closest to altogether for Christmas this family will get I feel, and the funniest part is I don't celebrate Chrsitmas anymore lol.