So yes I forgot about this place, my little area on the net lol. I'm slack, though Edleen reminds me often to post here.
So what have I been up to since I last posted in April?
1.
I joined the gym ... I've been going there 6 days a week since I joined, I've already gotten a gift voucher off them for reaching 100 visits (committed much?). I've lost 17kg so far, and I want to loose another 13 at least, maybe more. I've made some really wonderful friends there, including my personal trainer, whom I should say I pay to be my friend :p but she tells me she loves me lol, so maybe it's not
cause I pay her money. I've also discovered this love for boxing, my PT teaches it (this is how I first spoke to her), and since then I've become addicted, I box 2-3 times a week, and I've become so much stronger, and I've learnt how to punch and kick properly *would be muggers watch out*.
2.
I went back to school, well TAFE actually, I'm studying certificate 3 in Business Administration. I'm almost finished ahead of schedule, I have less than 5 units left to complete out of the 13. I've been going since July, and the course runs till December. I'm hoping to get a job after that, whilst I decide what I want to do with my life (cause as fun as it would be I can't sit at home all my life and just expect my DH to keep me lol).
3.
I lost my mojo big time. I didn't scrap for so long, maybe 2-3 months *sigh*, only now is it starting to slowly creep back. I'm hoping it'll come back full force very very soon. I think though I need some new photos.
Anyways that's the 3 main points of my life since April, not really exciting.
Ramadan
has started this last couple of days, and it's put me in reminiscence mode. This time last year I was dearly anticipating our trip to
Singapore
. I was soooo nervous about meeting my Father in Law, and step Mother in law for the first time. But at the same time I was so excited to meet them, and some people I had met over theinternet (including my husbands cousin). Needless to say my being nervous to meet my in-laws was unfounded, my father and step mother in law are two of the nicest people I've ever had the pleasure to meet.
I had the most wonderful time there, visiting people, eating (just cause all the food is so good), going doing the tourist thing. I definitely loved going to the pasar malam, and going scrapbook shopping with Edleen (and visiting her so often that my husband wondered what we were up to). I miss the late night eating with my husbands brother and his wife, and our 2am visit to the mustafa centre (after a long day in Johor Bahru lol), we came home to my FIL's to find both my husband and my BIL had forgetten their house keys.
This last few days I've been looking over my photos from the trip (there's over 1000 of them eekk lol). And all the memories just make me want to be there right now. Insha'Allah we will be able to go back soon, we are hoping in September or October next year, though to me it feels like a lifetime away.
So I'd better share some crafts that I've done lately since this is my scrapping blog lol. These are in no real order (though the first 2 are my latest creations).
I made these first two LO's these last 2 weeks or so, one is for my mother (she's on the right in the pic), the other is for her best friend of 27 years Jane.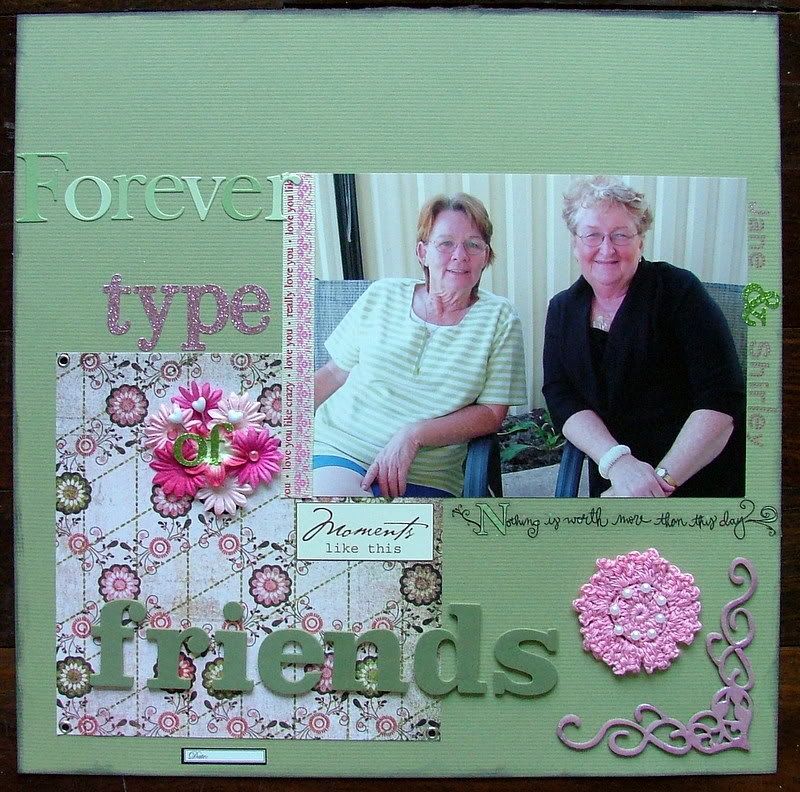 Forever type of friends
Forever type of friends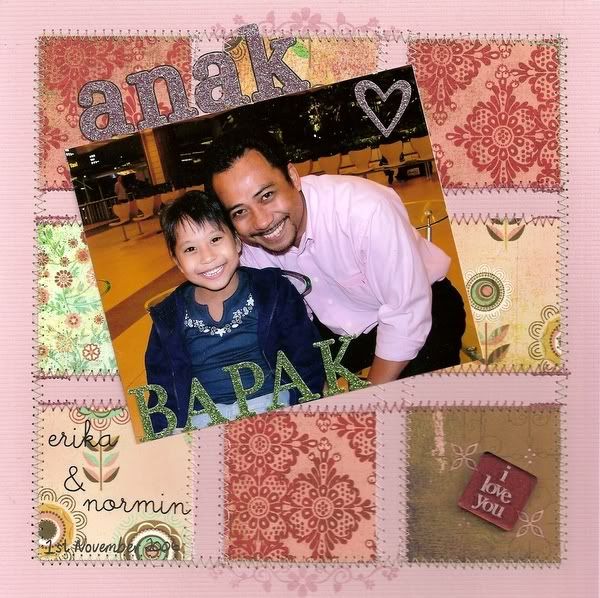 Anak Bapak
All of the flowers
My Girl
Good times Singapore
My Great Uncle passed away a few months back, I altered these K and G for my great Aunty Gwen.
Keith
Gwen
I altered this for my mum's friend Marion, she's like a mother to her.
Altered M
Well that's all for now, I'll *try* to come back soon lol.
Oh mine and Edleens little cosy scrapbooking forum is 6 months old tomorrow yay, I can't believe it's been 6 months already. the url is in my list of places, "
scraps cafe, forum
".