I take no responsibility for people falling off their chairs when they realise I updated (I'm looking at you
Ed
&
Texan in UAE
).
I've got nothing much to report, I swear life here is boring, and it's been to long to bore you all with my last whole year of not being on my blog lol.
So recent updates hmmm ...
I'm looking for work (there that's an update lol) it's really not going so well, I've been looking since october and I've had the grand total of 1 interview, which obviously didn't result in work. But I'm not giving up yet, though I may have if it wasn't for some great friends spurring me on, and brain storming for ideas on courses etc to improve myself, alhumdulillah for them.
My scrapbooking is really on the back burner, which is bad bad bad. I want to make things, and I just have no inspiration. I'm gonna just force myself to do somethings, cause this is getting ridiculous. I think I'll go to my back up for mojo making, I'll do some bookmarks :p always a good start. Maybe tomorrow, someone remind me yeah lol.
So tonight (just to change subjects here) we went for dinner, poor DH made the mistake last week of saying those magic words "You choose anywhere you want to eat and I'll take you there". Poor him, he didn't really want Italian, since where he works has Italian foods. But i had heard about
Vapiano
and wanted to give it a try. I loved it, I had Pomodoro E Mozzarella, the husband had Arrabbiata and we shared a Magherita pizza. We couldn't finish the meal, we were both so full, but it was good. I love the way to that you can watch your meal being cooked.
Afterwards we went to the husbands work place (he's a restaurant manager), he wanted to check in, like all weird people who work to much, he's on 4 days off, so of course he feels a bit strange not being there. I had a cappuccino, cause I was dying of a lack of caffeine. When I sat down I looked over and spotted little pink cupcakes on the counter, so of course I had to have one. once it came I whipped out the phone and snapped a pic for Texan, cause she loves pink, and she was the first person I thought of when I saw the cupcakes. My Dh told me he thought I was strange when I told him the pic was for her.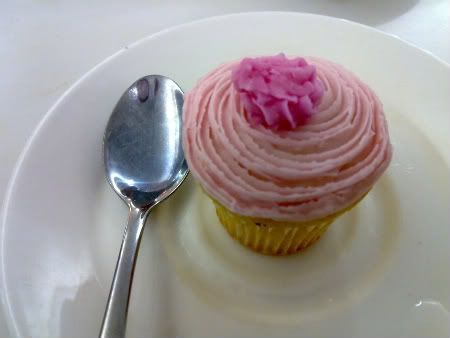 Texan's cupcake, it's cute right????
That spoon is a teaspoon, so it's an itty bitty cupcake, good for us girls (aka me) who shouldn't be eating sweets after the ginormous amount of chocolate they (aka I) inhaled over the last 6 days.
oooo and the food aside, I got my eyes tested yesterday, FINALLY, it only took 4 years of me thinking about it, and well knowing it had to be done when i couldn't read the menu boards on the walls at Gloria Jeans and the like. So I'm getting glasses, for driving and other distance related things (like reading sign boards when deciding how I want my caffeine hit). I must say I do rock glasses, I'm wishing I'd done this sooner. I chose out a nice pair of DKNY frames, black with some subtle pink bits :p hard to explain. Will post a pic once I get them, which I do hope is soon, I think my sister is counting the days till she no longer has to read menu's out to me at the shopping centre food courts.
Anywho I'll try to not be a stranger ... must update profile pic to.